I have several projects based in Canada, and as such I've had opportunities to try several different Canadian web hosts.  Recently I gave Web Hosting Canada (whc.ca) a try.  It was a terrible experience.  The worst of any Canadian host I've tried so far.
In fairness, I didn't get very far with WHC.  I couldn't.
I had a new project to deploy, and it was decided to be at WHC.  I signed up for the account, and selected the "Canadian cloud server" plan I needed.  The price and specs seemed reasonable, and I was looking forward to trying out their platform.
The first sign of a problem was as soon as I had ordered the server.  It showed up in my account with a "pending" status — and just sat there.  At every other cloud provider I've worked with the setup process takes AT MOST 2-3 minutes.  (At Digital Ocean, I can literally have a new server deployed in 55 seconds!)   Well at WHC my new server just sat there, and eventually I had to go off and do other things, disappointed that I couldn't finish that particular project.
About 5 hours later I get an email from them saying "Action Required: We need to confirm your order."  It asks me to fill out a "verification form" and fax or email it back to them — yes you heard right, this is 2020 and they are doing business via fax!  Along with this form they want a copy of my government-issued photo ID and credit card.  All for a $40/month server!  Seriously?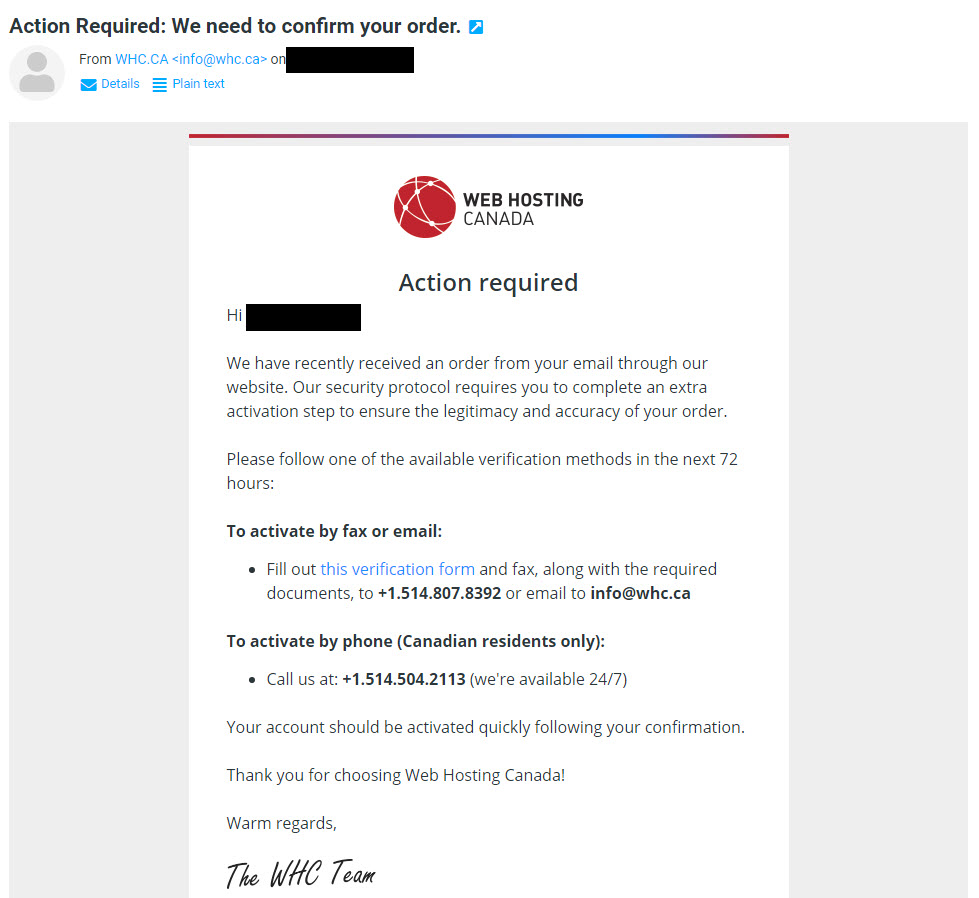 The email.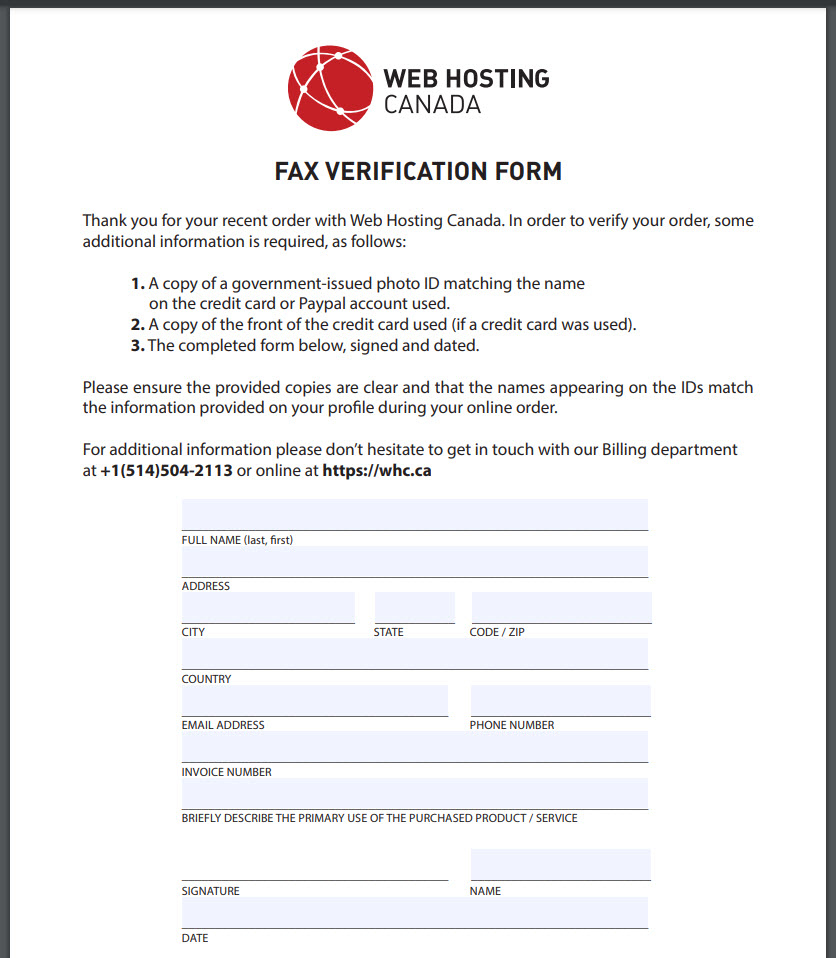 The verification form.  A tech company doing business by fax — in 2020.
Now, I've used a LOT of hosting companies over the years.  Right now I personally spend several hundreds of dollars each month between various hosts.  In the past I've even dealt with projects than ran up to several thousands a month in hosting costs.  I've used or still use all the big U.S. providers (AWS, Google Compute Engine, DigitalOcean, Linode, etc.), as well as Canadian, British, Australian, and various other European companies.  NEVER — I repeat NEVER — have any of them asked me for my ID!
If I was signing up a new account and immediately spending thousands of dollars I could sort of understand it — but they're really gonna make me do this over a measly $40?  And, again, the companies with whom I spend a lot more money have never felt the need to do so.  So, I ask, what is WHC's problem?
At this point I'm pretty frustrated 1) wasting hours waiting for a server that should have been available in a few minutes, but so far still hasn't been delivered, and 2) being asked to show ID like I'm some petty criminal.  I decided to send an email to their support team outlining exactly what I've said so far.
Approximately 24 hours later I get a reply saying "we ask you [for] your documents as … we simply need to confirm that you're the right person for security reasons following the canadian rules."  Talk about a bullshit answer.  I currently use several Canadian hosting companies (including Clouda.ca which has been excellent — I really should  update my review), and none of them have ever had such "rules".
At this point I'm done.  I moved on to an alternate Canadian host (I went to Lunanode — read my review here) and asked WHC to refund my payment.  They had no problem collecting the money from my credit card immediately, but it took them a further 2 days just to respond to my refund request!
All of which leads me to believe… something is seriously wrong at Web Hosting Canada.  At any other hosting provider I could have had a server up and running in literally only a few minutes.  If WHC can't do that, and then they put people through arcane verification processes via fax machines… and then take days to reply to your support requests — how are they even staying in business?
My advice: stay away from WHC.  There are plenty of good Canadian alternatives like Clouda.ca and LunaNode, or U.S. providers like DigitalOcean, who all have great service and won't give you the runaround.